Seats
Many people use their senior chair many hours every day. So sitting comfort is important.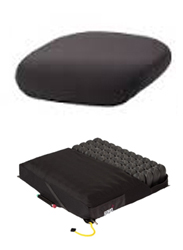 Size matters
We find it important to deliver chairs in the right seat size. Every person is unique;
tall
,
small
,
heavy duty.
Based on measurements we can select seats that match with your body size. Comfort means that you choose a seat with the correct depth and width. We have a range of seats available. For heavy duty users we can also customise the seat size.
Arthrodesis chair
We can also deliver
arthrodesis chairs
. This supports the legs in multiple angles. Specifically for people with painful legs / hips the arthrodesis seat provides a thorough solution.

Memory foam / Roho / perfolatex
Just like mattresses you can also use other material for seats. Softer seats, anti decubitus. We can arrange more sitting comfort with memory foam or perfolatex. Also an ergonomic back rest. Plus lumbar support. Seat cushion option:
» standard foam
» perfolatex: soft
» memory foam
» Vicair

Fabrics
You can choose between the following fabrics for your
triple chair
.
» Le Triple Basic / Wheels: polyester or SKAI synthetic leather in the colours blue, grey or green
» Mondo: polyester or synthetic leather in the colours grey, bordeaux red or blue
SKAI and synthetic leather are easier to clean.
Search a model Ask a question