Arthrodesis chair
Most
triple chairs
in our assortment we can also deliver as arthrodesis chair. With the arthrodesis chair you can put your left and/or right leg into another angle to provide relaxation & reduce pain. Just switch the lever and put the arthrodesis chair in the right seat angle. Benefit from more leg relaxation. You can buy and
rent
an arthrodesis chair (only Western & Northern Europe).
What people benefit from an Arthrodesis chair?
Arthrodesis chairs are meant for people that suffer from pain in their knees, legs or hips. The regular 90° angle provides discomfort. The arthrodesis chair supports the leg in various angles. We can also supply a single or double legrest. We have various articles and solutions to bring comfort.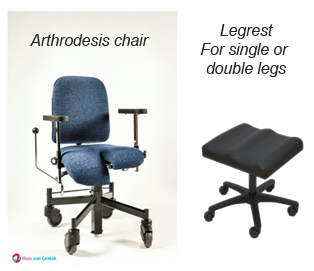 Arthrodesis chair - user profile:
» hip problems
» knee problems
» pain issues
» recovery after surgery
» unequal leg length
» leg amputation
Multifunctional arthrodesis chair
We combine the multifunctional advantages of a triple chair with the arthrodesis seat. This delivers a full solution for physical problems:
» easy movement with Ø 100 mm castor wheels
» brake
» seat and backrest settings
» senior chair features
» arthrodesis seat
Contact us for more information about renting or buying an arthrodesis chair.
Questions / Prices Search a model