Triple chair for senior people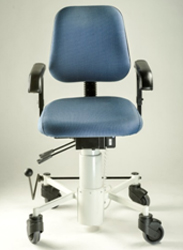 One of the major benefits of a
triple chair
is that is supports your transfer from a standing – sitting down – standing up position. The 5 key functions in short:
» brake to stop the chair
» adjustable height (with electric lift or gaslift)
» strong and longer armrests
» create your ideal senior chair
Transfer on a triple chair
A transfer upwards from a low to a higher position costs energy. With the
electric lift
on a triple chair you simply click the button to put the chair in a higher position. You can stretch your legs better when you are higher from the floor.
In case you need a transfer from a low point (toilet, bed) you can put the triple chair in a low position. So whatever heigth, you simply push the button while staying seated.
Safe transfer with effective brakes
The brake stops the chair. This provides a safe transfer situation. Most senior chairs have a brake on 2 castor wheels. If the stop is really a critical issue, we recommend a brake on 4 castor wheels.
You can lean on the strong armrests. And the armrests are long, so it gives you excellent support to stand up. Moreover, the seat can be turned in various seat angles (positive / negative degrees) to support standing up.
Search a model Questions / Prices